Boston's Legacy Businesses - Shops and Services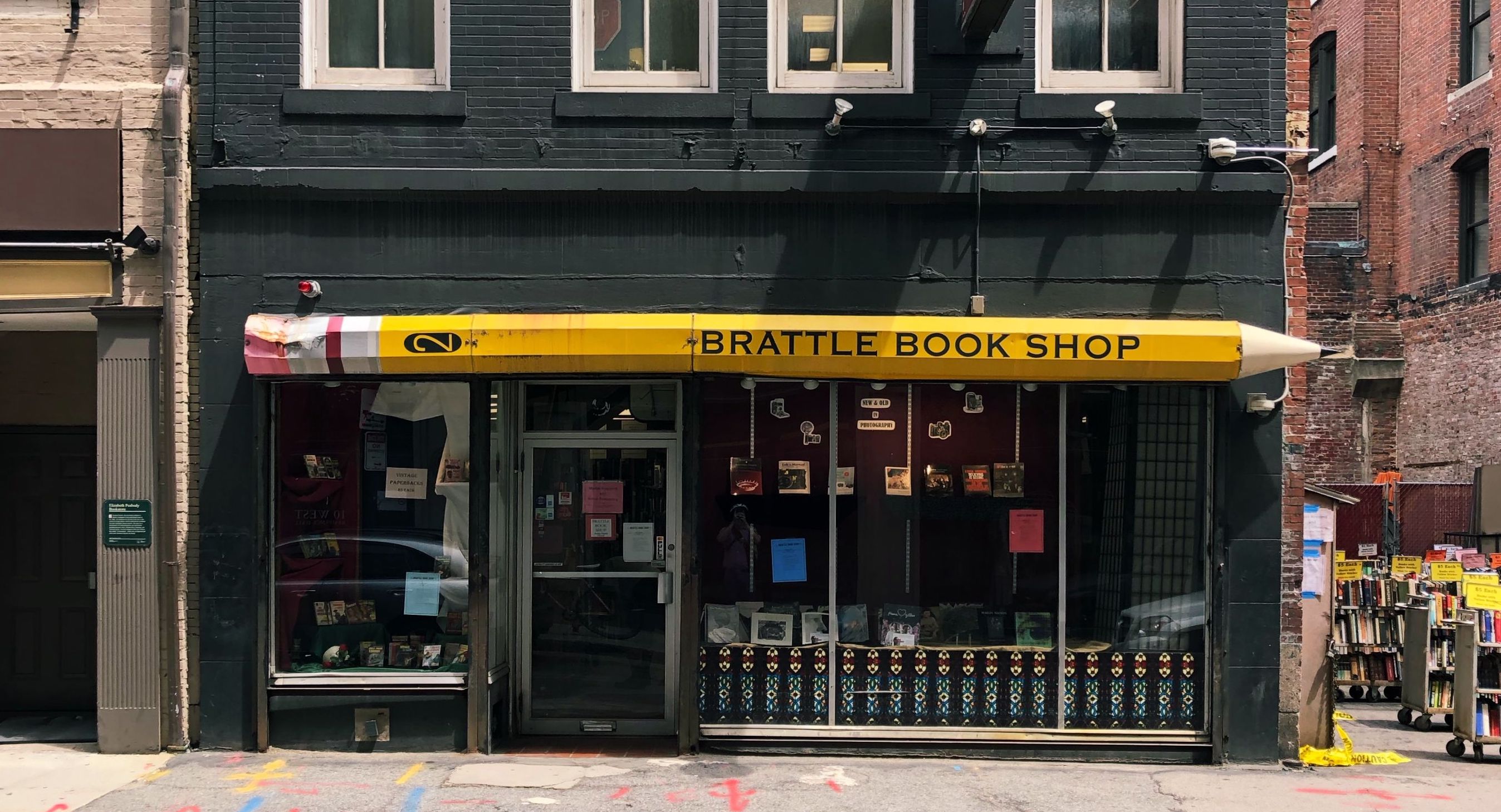 Jamaica Plain 
Boomerangs is a family of thrift stores owned and operated by AIDS Action, New England's leading provider of HIV prevention and wellness services, in Jamaica Plain, West Roxbury, Central Square, and Boston's South End. All proceeds from Boomerangs' sale of new, lightly-used, and vintage merchandise help fund AIDS Action, in partnership with Fenway Health, to support the health and well-being of the LGBT community in Massachusetts. The Jamaica Plain location re-opened on July 1, 2020, with other Boomerangs stores planned to follow.
Downtown
Founded in 1825, Brattle Book Shop is one of America's oldest used book shops. The original Brattle Book Shop was located on the now defunct Brattle Street (where City Hall is today). It had to move around several times in the 1960s due to redevelopment in Boston. It shared a space with a card shop (where illegal drugs were sold on upper floors) then moved to West Street. The original West Street location burned to the ground in the 1980s, creating the now-loved outdoor books lot. Thanks to donations and local support, the bookstore was able to purchase the storefront next door and move in within a month. Since its purchase in 1949 by the Gloss Family, the shop has become one of the largest antiquarian bookstores in the country. The shop features two floors of general used and out-of-stock books, a third floor of rare and antiquarian books (first edition, collectibles, and fine leather bindings), and its outside lot. In total, Brattle Books carries an inventory of over 250,000 books and print items in all genres. The shop began to slowly reopen in early June 2020 following temporary closure during the pandemic.
Broadway Lock
South Boston 
Broadway Lock has been operated by the same family for three generations, in the same location on West Broadway for over ninety years. The South Boston establishment sells keys, locks, and hardware and offers high-quality service by experienced locksmiths.
Bromfield Camera Co.
Downtown
Bromfield Camera Co. has been family owned and operated for over 47 years in its prime location near Downtown Crossing and Park Street. The store sells new and used digital cameras and video equipment and offers camera repair and photography services.
Downtown
Bromfield Pen Shop is a family-owned business established in 1948 and located in Downtown Crossing. They sell fine writing instruments, journals, and inks to local and global customers and offer pen repair and engraving services on site.
Beacon Hill
Charles Street Supply Co. & Hardware is a family-owned and operated hardware store in Beacon Hill. Established in 1948, the store has become a neighborhood staple. In 1963, the store moved locations from its original home 43 Charles Street to 54 Charles Street after it burned down from a dumpster fire in the alley behind the store. Several decades later, the store took over the retail space next door and doubled the property size. Today, they have thousands of items in stock and continue to meet local hardware needs.
Community Bike Boston
South End
Community Bike Boston has been owned and operated by the same family for over 40 years. Helping make Boston a more bikeable city, they serve Boston's bicycling community through new and used bikes, parts, accessories, and footwear.
Downtown
E.B. Horn Jewelers in Downtown Crossing is Boston's oldest family-owned jeweler. Founded in 1839 by Edwin B. Horn, the store now offers one of the largest selections of diamonds, jewelry, and watches in New England.
Fran's Auto
South Boston
Fran's Auto Repair specializes in brakes, exhaust, tune-ups, and tires. They've been operating in South Boston for decades and are known in the area for their excellent service.
Harold's Barber Shop
South Boston
Harold's Barbershop in South Boston is a traditional-style barber shop operated by a neighborhood local. The shop is known for its competitive prices and men's haircuts.
Cambridge
Harvard Book Store has been a locally-owned, independently run business in Cambridge since 1932. The store sells a wide selection of new, used, and remaindered books, and fun merchandise for book-lovers like totes and mugs! They also offer unique services like print on-demand. You can shop in-store or online.
Back Bay
The Johnson Paint Company on Newbury Street was established in 1939 by John A. Johnson just months after his graduation from Harvard. Since then, the store has passed through three generations of the family and branched into eight stores in three states (Massachusetts, New Hampshire, and Maine). Johnson Paint prides itself in maintaining an excellent level of customer satisfaction while providing high-quality paint products and services.
Downtown
Sporting tobacco blends, pipes, and cigars, L. J. Perretti has been serving the public for 150 years after opening its doors in 1870 as the second tobacconist in the US. They offer custom blends, which are decided through a process of samples to smoke to determine the customer's palette, as well as hand carved pipes, and an extensive collection of imported pipes and blends. The shop has five private blend books, with one of the earliest legible blends from 1915. A frequented spot of celebrities and politicians over the years, they have served people from Frank Sinatra to the current Mayor Marty Walsh. 
South Boston
The Marr Companies is a leading provider of specialty equipment, products and labor services to construction projects in New England. Daniel Marr & Son Company, was established in 1898 and has since branched into four separate businesses owned by the fourth and fifth generations of the Marr family: scaffold, aerial platform, shoring and forming, and bleachers and special events.
Downtown
The current Motor Mart Garage stands in a building created in 1927, after the original was razed. A wonderful example of Art Deco architecture, the building was due for a restoration in1995 after decades of slightly neglectful management. The facade was stripped and recreated in its former style from 1998-1999. The new structure receives daily care to keep up all of the hard work with restoring its previous design, and is still a fully functioning garage almost a century later. The garage boasts a double helix design, allowing for drivers to rise two floors while circling only once in search of a spot.
Fenway-Kenmore
Settling any music lover's record, cd, or cassette fix since 1978, especially local forgotten bands, Nugget's Records is a special find. Voted Boston's Best Record store of 2019, its popularity is an undisputed fact.
South Boston
Ottavio's Barber Shop is a small barber shop in South Boston run by Ottavio. Ottavio's is known for a quick, fair priced cut, and a good conversation, with the added bonus of catching a soccer game on the television. 
Jamaica Plain
Located in Jamaica Plain, Ruggiero's Market is a combination diner, market, and liquor store with an array of craft beers. It's known for its breakfast sandwiches and as a great place to stop for a quick bite.
Back Bay
Shreve, Crump and Low Jewelry was founded in 1796 by John McFarlane, a watchmaker and silversmith. He ran his business across the street from Paul Revere, and remained there until The Great Boston Fire of 1872, after which the firm moved to Washington Street, and eventually to Boylston Street. Shreve Crump and Low has created many different commissions over its history, including lighting fixtures for Trinity Church, Parker House Hotel and even King Kalakaua's Iolani Palace in Honolulu, Hawaii. David G. Walker purchased the business in 2006, and has since opened other locations. It is the second oldest luxury jewelry store in the US. 
Skippy White's Records
Roxbury
Skippy White's Records opened nearly 60 years ago, although in the beginning it was called Mass Records- The Home of the Blues. Skippy White, originally Fred LeBlanc, created his name while running an R&B radio show with WILD-AM in the 60's, and he still runs an R&B Oldies radio show every Saturday. Skippy White's slogan "Just hum it" is a testament to his love and familiarity with gospel, soul, blues, and R&B. The record store also drew artists like the G-Clefs, a vocal group from Roxbury, and Tammy Montgomery, who later became Motown's Tammi Terrell. With the popularity of CD's and Vinyl not what it once was, the record store began to close in January of 2020, but due to complications from COVID-19 the "Out of Business" sale will continue almost 6 months later. While the physical location may be closing, Skippy White's will continue to have an online presence.
Allston
Stadium Auto Body is a family owned repair shop in Allston, which has been serving customers since 1968. They take on all kinds of bodywork and auto repairs, and are a favorite of many drivers.